"We have bigger things to do right now than focus on value."
This is what I have been hearing in many of the conversations I've been having with private equity owners and operators in the last while. We live in strange times indeed when value (traditionally expressed as market cap), an all-encompassing indicator of success, takes a back seat. Of course, everyone is itching to be done with the pandemic. But the virus isn't done with us yet. In the face of fresh COVID hotspots, officials and leaders around the world are hesitantly starting to roll back reopening plans.
With unemployment exploding everywhere, some nations have stepped in with stimulus payments and various forms of universal basic income to try to save their people and their communities. Yet I don't believe we can idealistically rely on governments to "share more" in perpetuity. These band-aid measures may temporarily put food on tables and avert social unrest, but they will not permanently cure what ails our economies.
Saving people from slipping into poverty on a more permanent basis will depend on businesses being able to consistently create economic value. That is why I don't believe we should ever stop focusing on value.
Value is a beautiful shorthand that not only reflects how efficient a company's operations are. It also expresses how relevant an enterprise is in the world.
The engine driving our civilization has always been—and always will be—value creation. In these unprecedented times, we should be focusing even more on the hotspots in our organizations where value is being created today and where it will be created tomorrow.
A company is valued financially based on the business's management, capital structure, expected future earnings, and market value of its assets. The success of its management can be derived from employee retention and productivity rates, the speed of execution, and its record for legal and regulatory compliance. The success of its products and services, upon which future earnings are based, can be seen in its Net Promoter Scores, which determine how much customers appreciate what it offers.
All these performance metrics come back to how exhilarated people are about the company: its brand, its offers, and its leadership.
Nowadays, people are increasingly looking to business leaders to be responsible not just for generating profits, but also for protecting health and wellbeing on an ongoing basis. Employees want to be safe while working and not put their lives and the lives of their loved ones at risk. Consumers want the essential products and services they need to be affordable and accessible. Suppliers want help with becoming more resilient in the face of future geopolitical and environmental shocks. People everywhere want concrete proof that things are being done in a more healthy, sustainable way.
The pressure on CEOs in particular at this time is immense. They have to prepare for the possibility of more significant social and economic fallouts from COVID and, in some nations, for political upheaval.
There are many breakdowns and many voices clamoring for their time and attention. "If you're not involved in this, it won't take off," is an all-too common refrain. Yet, these days, if something doesn't take off because it lacks a CEO's involvement, it probably shouldn't even be started. There is one thing, however, that CEOs, along with their CFOs and CHROs, must take care of, even when they find themselves facing many conflicting business priorities. And that is the human side of the enterprise.
It is not uncommon in this chaotic mix for CEOs to feel as if they are literally staring down an almost enterprise-wide conspiracy to distract them from paying attention to the vital few things that really matter for value creation.
This makes focusing the entire leadership on value an imperative. This is why, more and more, private equity operators and portfolio company business leaders are essentially stepping up, behaving like activist investors, and shouldering the responsibility with CEOs to fix companies that have not been run as well as they could have, to generate new opportunities to make value, to drive ESG (environmental, social, governance) changes, and to improve results for all stakeholders. I know activist investors and private equity firms, in general, are often seen as forces of amorality. Yet it is, ironically, working-class citizens whose pension funds and banks have invested in the private equity firms and their portfolio companies who benefit from those better results.
At all times, no matter what is going on in the world, CEOs, private equity operators and business leaders stand a better chance of succeeding when they tackle this "bigger" job of connecting what their companies are doing with what consumers and customers value. Together they can effectively clear away the clutter of (what is now) unnecessary "old" work and focus people on doing the work that will produce whatever consumers and customers value today and the "new" work that will deliver what they value tomorrow. They can more accurately discern value hotspots and apply a dynamic talent management practice like Talent to Value to the work to be done at each hotspot. By doing so, they stand a much better chance of fulfilling their responsibilities to all stakeholders, even though the broader environment may be characterized by rife uncertainty and continual disruption.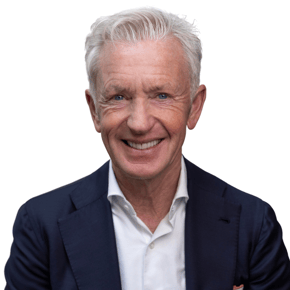 Hein J.M. Knaapen
Hein is an internationally recognized expert on HR innovation, talent development, and organizational capability building. As an advisor and mentor, he aims to guide leaders toward maximizing the return on their talent investments.