When it comes to financial investments, we are very clear about what needs to be delivered. When it comes to people investments, we tend to focus only on the person, not on exactly what we need delivered.
As CEO, you know how important rigour and focus are to your investment decisions. For any company you acquire, you assemble evidence about the enterprise and its market potential, assets and liabilities. You develop a keen awareness of the financial opportunities and risks. The only thing left to clarify is whether the investment can work. The people decisions. And, unfortunately, this is where rigour all too often seems to disappear.
Being very clear about demand is an essential element of diligence and one of the keys to astute investment decisions. The problem is that none of the many good examples of talent management I have seen throughout my career focus on demand: they focus on supply. So what can leaders do to apply the rigour typical of investment decisions to their people? We at CEO Works did this with a business analytics software company in 2020 to put "demand" front and centre in their people decisions.
What
value

needs to be delivered?

First, we talked with the CEO and his leadership team about the company's value agenda. The global market for business analytics software, $61B back then, was projected to grow to $177B by 2030. SMEs were driving demand for cloud-based analytics, and digital transformations were hot with enterprises worldwide. In light of this reality, the leadership set their sights on doubling international revenues from $2B to $4B in five years.

To achieve that growth, the CEO and his team identified three "hotspots," places in the organization where disproportionate amounts of significant value would have to be delivered. We helped them articulate the work to be done at each hotspot, how that work could be organized into a set of "critical" roles, and then assigned a percentage of value from the relevant hotspot(s) to each role. The final list of 20 critical roles we came up with would drive the $2B in incremental value.
What must the critical
roles

deliver?

Leaders, like all human beings, immediately talk about people when they talk about roles. We—understandably, but wrongly—confuse the person with the role. Yet a role is not a person.



A role is a set of requirements and deliverables. A role is, essentially, a set of demands that have to be met. In that sense, it is similar to other investments and should be viewed accordingly.
Rather than dive into psychological explorations of incumbent talent, we helped the software company's leaders make focused assessments of the readiness of particular individuals to fulfill the demands of the company's critical roles (that is, to produce particular deliverables in particular roles in the current context). By looking closely at each hotspot's critical role, we identified and mitigated points of risk. Interestingly, two straightforward interventions associated with a role two levels below the CEO effectively reduced execution risk at two of the company's three hotspots.
The Head of Corporate Development role, ranked #3 in the company's list of critical roles, would be responsible for $120M in value ($50M of the M&A hotspot and $75M of New Growth). We identified a capacity issue by seeking the risk inherent in the role itself. The Head of CD would be involved in: managing the end-to-end execution of deals within 90 days, pivoting investments toward co-building and growing forward-looking lines of business, and building the capabilities of the M&A team to become the "go-to" resource for these new business lines. Their team of three, while lean and efficient, was already stretched thin, handling strategy, deal origination, and execution for the existing enterprise. The shift to transformational M&As and to playing in new target sectors would put even more pressure on their capacity. We recommended adding a few very select resources to the team to cover all priorities at both hotspots.
Then and only then did we look at the incumbent's readiness.
This individual already shouldered more than half of the load on deal execution. Their high-caliber performance, combined with a high rating history, high trust quotient, and winning track record, had earned the comment "can be parachuted into anything." All looked good—perhaps too good. This person had highly marketable skills and, in recent conversations, had expressed an interest in having more authority and visibility in the business. To reduce flight risk, we proposed the company create a special line of sight with the CEO to review progress at both hotspots regularly.
Instinct doesn't get you straightforward interventions like these. After having used this same evidence-based process with several organizations, I know that adding investment-like rigour to people decisions does. They say success breeds success. To that end, my colleague Prateek Sinha and I are capturing what we are learning with our European clients, intending to publish a paper in early 2023. If you would like to obtain a copy, contact us. Meanwhile, if you'd like to learn more about how to join the group of leaders benefiting from my advice, contact me.


---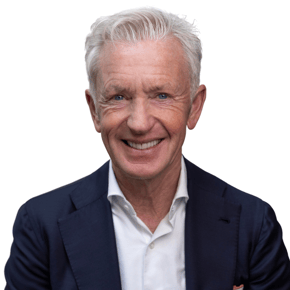 Hein J.M. Knaapen
Hein is an internationally recognized expert on HR innovation, talent development, and organizational capability building. As an advisor and mentor, he aims to guide leaders toward maximizing the return on their talent investments.