One thing I have learned in my career in HR is there's only so much that matters. The trouble is most people stepping into their first CHRO role don't have a natural feel for what that actually is.
The fault is not theirs. Corporate dynamics don't encourage focus: they foster a politically correct bias for action. In most organizations, this bias becomes an obsession that doesn't necessarily get anyone closer to results. I admit I was often a sinner in this respect. Excitable, high-energy, and ambitious, I would eagerly take on this and that, running at warp speed, tackling many things at once.
I have no doubt that my impact as a CHRO would have been significantly greater had I distinguished this "action obsession" earlier in my career and strategically focused my attention, time, and energy on driving company performance. What I lacked, without knowing it, was a framework for discriminating the imperative from the nonessential.
I offer the following three inquiries to new CHROs as a framework for navigating their role. While there are no wrong answers, some will drive more impact than others.
3

QUESTIONS FOR NAVIGATING THE C-SUITE
1.

How do you relate to your company's purpose?
By purpose, I mean why your company exists.
It is not wise to arrive in the boardroom and immediately start telling your new C-suite colleagues what that purpose is, could be, or even should be. However, it is prudent for you to listen and learn from them. While the purpose itself does not need to be breathtakingly noble to be relevant to the company's customers, it needs to be clearly expressed and applied.
Sometimes there are several different reasons for an enterprise to be. That complexity can inadvertently complicate thinking at the executive level about strategies and priorities. In this case, you can bring two things to the conversation. First, a call for clarification when the purpose is "muddy" or vague. And second, your relatively fresh, expert perspective on priorities that are currently underway. Moving forward, relate to the enterprise's purpose as a North Star to help keep you and your fellow C-suite members on the straight and narrow, choosing the imperative over the nonessential and avoiding counter-productive diversions and unnecessary conflict.
2.

How do you relate to the interests of your fellow C-suite members?


Conflict at the executive table can be terribly destructive or wonderfully constructive.

I will never forget what Sir Geoffrey Allen, Research & Engineering Director at Unilever, shared with us in a meeting when I was with the company. His observations of post-WWII senior management were to the point: "If they did to the competition what they do to each other, they'd be unbeatable." Rather than recreate this in your company, when anyone goes off on a tangent, don't immediately attack. Instead, aim to maintain your long-term relationship.

• Select your battles and sequence them. Not everything is equally important. And not everything can be done at the same time.

• Speak with the intention of increasing the impact of your fellow C-suite member. As Amy Edmondson, author of The Fearless Organization, would say, speak because you care more about the customer, the patient, or the quality of the work than your ego. Say what you think without being obnoxious or directly challenging. Trust your peers will appreciate such radical candor.*

• Consistently link your comments to company performance. Share what you observe are the consequences of your peer's perspective and choices before offering them alternatives. The more actionable your feedback is, the more impact it can have.

For example, in my conversations with Chief HR Officers these days, there's a lot of soft talk about whether people are "happy" or not. As a human being, I can totally sympathize with that concern. But it may not be the most relevant to your CFO and CEO. Ultimately, employees need to be responsible for their own happiness. That said, there is growing evidence that employee experience drives productivity. Therefore, besides the general matter of human decency, it is often in the best interest of companies to improve the employee experience since that enhances corporate performance. Fortunately, not every moment in the employee lifecycle matters equally. Depending on the business and the individuals involved, you and the entire leadership team can have a significant effect on company performance by attuning yourselves to the limited number of moments that really matter.
3.
How do you relate to your legacy?
As CHRO, you are the steward of the company's HR function. You are responsible, more so than other leaders in the C-suite, for the people.
You may wish to be seen as a leader of the business rather than as a servant to the business. If so, you will want to operate on an equal footing with your fellow C-suite inhabitants throughout your tenure. Establishing that footing at the outset essentially comes down to understanding how the business works, subscribing to it, and figuring out how to ensure the right talent is available when and where necessary to make that business happen.
The challenge in this is that we in HR, as part and parcel of our "people" responsibilities, have a natural propensity to also sign up for the numerous issues society throws at companies. Most of us are sensitive to the nuances of people's identities and histories. We are woke to the facts about racial and social injustices. We care enough to want to make people's lives better and easier. Being woke and caring, we often question the status quo in our companies and consider how we can go about encouraging change.
Our predecessors responded to the pressing call during the pandemic to allow employees to work remotely or in some hybrid form. In the post-George Floyd era, we want to respond to the abundant interest in creating a work environment where a rich diversity of individuals feel safe, included, and "equal." We listen to the numerous concerns of our employees—from the gender pay gap and income inequality, discrimination, and racism to gender-based violence and LGBTQ+ rights, poverty, and food insecurity.
Most everyone will ostensibly agree with a sensitivity to "woke issues," but your attentiveness to them as a new CHRO will not be without risk. If you assume the people you are trying to serve cannot handle a lot in their lives, you risk alienating them (few people I know appreciate being underestimated). And if you flog woke issues as your hobbyhorse, you risk losing sight of the company's interests and having less of an impact on its performance than you could (or should).
Besides our obligation to abide by rules and regulations and to be utterly decent towards the people we work with, company performance should be the primary driver of our interests and focus in the C-suite.
Your peers at the executive level, particularly those with functional hats, will, like you, be tempted to get involved in initiatives that, either within their function or within society, fall under the banner of "doing good." Not all of these initiatives will have a lot to do with improving performance. As the organization's most senior HR professional, you can keep your fellow C-suite members alert to what is a hobbyhorse versus what is in the best interests of the company.
One final thought about legacy. As you step into the CHRO role, identify what you want to achieve. At the end of your career, do you wish to have been known for your visionary viewpoint? For having done "what's right," but perhaps politically incorrect? For the positive impact you had on the companies where you worked? These are not mutually exclusive outcomes. Let these outcomes guide your choices every day.
---
NOTES
* Andrew Hill, "Psychological safety: the art of encouraging teams to be open," Financial Times, February 11, 2023. Accessed online at https://www.ft.com/content/5d544a25-d7dc-41ad-8b42-fe92406d25d7.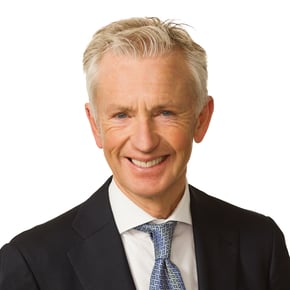 Hein Knaapen
Hein is an internationally recognized expert on HR innovation, talent development, and organizational capability building. As an advisor and mentor, he aims to guide leaders toward maximizing the return on their talent investments.