Congratulations! You've made it to the C-suite. Now, what should you focus on?
The gravity and scope of the job, when you first arrive, can be overwhelming. Corporate dynamics do not help. Everyone will want your time and attention. And whether you go on a listening tour or not, people will know how to find you. Each person will want you to understand their unique relevance to the business. Many will want you to believe that pursuing what they want you to pursue will be the very salvation of the company. Others will complain that senior managers and business owners have thwarted the company's success by not backing their plans in the past. Yet others will simply try to make you responsible for their hobby horses.
Be prepared. There will be a flurry of topics to address and requests to be met. All that demand, while gratifying, can lull you into believing you have to just dive into the pile of work and get it done.
Take advice from someone with scars on their back, someone who has been there and learned from making their own stupid mistakes. Don't tackle this in a "business as usual" way. You will only get lost in your work. Instead, think of why you have been appointed and the legacy you want to leave.
You will always have to ensure the company abides by and complies with all the laws and regulations to which it is subject. Hopefully, you will choose to model good old-fashioned values like integrity, honesty, and kindness in your dealings with people so they will see you as a respectable senior executive leader and a decent human being. Additionally, in your role as CHRO, you must drive performance and value creation.
Let's be honest. I know it's almost politically incorrect in Europe to say this, but the company has to make money. Not just some money. It has to make enough money to grow its impact in the world and be sustainably profitable. Companies that do not do this pass on the cost of their failure—and not just to their investors and shareholders. That failure to create value touches every stakeholder that has a vested interest in the organisation's operations and performance—from customers, suppliers, vendors, manufacturers, and distributors to governments, trade associations, and communities.
This may be difficult to swallow, but the primary reason you are in the CHRO role is to drive

performance

and

value

creation for the company and its business ecosystem.
HR has historically been the domain of the "people" in business. It still is. But your leadership, if it is not grounded in compliance, values, and value, will not be good enough. Your ability to craft a people agenda that is tightly linked to the creation and delivery of value, coordinate its execution with your CEO, and drive its implementation will be decisive.
What does this imply in terms of how many of those requests and topics that people bring to your attention you can take on? Realistically, not a lot.
In my first-time CHRO role at KPN, a regional telecom operator and listed company based in the Netherlands, I responded in a knee-jerk fashion to that flurry of requests and topics. I did my best to connect with the people with whom I worked and, in doing so, I blindly severed my connection with the performance of the business. I know better now than to succumb to this form of political correctness.
My second stint at CHRO was at ING Bank, the global financial services company. I have also just completed a short stint as an interim CHRO at DSM, the listed health and nutrition multinational. Here is the pattern I see in my failures and successes. Whenever I gave in to fashionable solutions that, in fact, had no meaningful link to corporate performance, my impact was elusive. Whenever I understood the acute relevance of a need to enable value creation, I was always able to muster the support of the CEO and drive solutions that actually improved the company's performance.
That is why I advise first-time CHROs to make sure they have a got a deep understanding of how their company creates and captures value, as well as where in the organisation critical pockets of value sit. To avoid condemning the organisation to backing plans that will feed failure, I suggest they question every solution in front of them: what is the problem this is intended to solve—and will it even work? And last, and most importantly, I recommend they think big (always keeping business performance front and centre) and start small to move fast.
At the end of the day, what do you wish to be remembered for? Being a kind person—or building a great investment for people?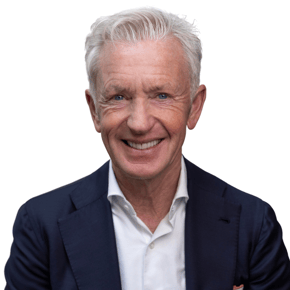 Hein J.M. Knaapen
Hein is an internationally recognized expert on HR innovation, talent development, and organizational capability building. As an advisor and mentor, he aims to guide leaders toward maximizing the return on their talent investments.