The prevailing characteristic of many successful HR leaders is care. To be precise, care for people. However, I have the scars on my back to show that a caring nature has to be balanced with rigour if you are to be effective as a new CHRO.
Care can have many expressions. In my youth, I believed Einstein: "Only a life lived for others is a life worthwhile." I contemplated becoming a priest. But, somewhat surprisingly to me, I started my career working as a factory personnel officer for Unilever. A decade later, I was an HR director. Within another decade, I was CHRO of Royal KPN, a Dutch telecom. From there, I went on to become ING Bank's CHRO.
With the CHRO role comes the possibility of greatness. In the last fifteen years, I've seen many other "new" senior HR executives make the same mistakes I made when I first stepped up to the Chief Human Resources Officer role. Here are the three things caring HR leaders need to be aware of to realize their greatness.
1.

YOUR DEFAULT PATTERN


Your sincere desire to serve, to make people better, and to be there for everyone, in and of itself, is a powerful driver. Just getting the CHRO job energizes you. You want to show your boss—and the world—that you are up to the challenges of the role and that you have enough energy for them. And so you make yourself the vehicle for delivering everyone's wishes. You take on everything that comes your way.

The first time I was a CHRO, I quickly had myself being deployed in all kinds of challenges that I should not have been. I became "useful" to many in the company. I metaphorically fell in love with the fact that I was widely appreciated for being the man who got things done. I was certainly useful and "loved"—but not for the right reasons.

Today, I look back with some compassion on my younger self. I no longer view this longing to belong as a fault. Rather, I see it as a default pattern of all human beings. According to neuroscientist Matthew D. Lieberman, our brains are literally wired to reach out and interact with others, to be "social," and to be influenced by those around us. Evolution has built us to "naturally adapt to the groups we are in and become the kind of people those people want to be around."*



This evolutionary adaptation to be "social" helped make humans the most successful species on earth. But it won't guarantee your success as a CHRO.
2.

YOUR GREAT MISSION


The CEO didn't hire you to be a business leader or a CFO, roles that have clearly delineated bodies of expertise. The CEO hired you to articulate a very specific people agenda.

As a first-time CHRO, creating the people agenda will probably be your most significant challenge. Of course, the CEO will expect you to bring your enthusiasm and your care to this work. You know about the workings of HR; however, you won't—yet—have the experience of creating a people agenda that supports a company's business strategy. Somehow you must find the wherewithal and the confidence to do that work and, at the same time, create a balance in the relationship with your CEO so that you are listened to and trusted as a leader with equal footing in the business.

They will also be looking to you to be their trusted advisor and sparring partner. Not that there will necessarily have to be anything "wrong" for you to have these kinds of discussions. It's just that CEOs don't always have someone they can talk with about their deepest suspicions and worries about the people with whom they work.

If you've taken on far too much, not only do you risk getting lost in the flurry of things coming at you. Being overloaded will reduce your ability to both advance your people agenda and be present in these "confidante" conversations too.



If everything's important, nothing is. It will be very, very difficult to challenge your CEO at the level of priorities and value if you are not clear about what really matters and what doesn't.
3.

YOUR ULTIMATE CHALLENGE


There are two things you can do to improve your chances of success.

First, slow down. If you don't, you will not arrive at a deep understanding of what is going on, what your CEO is up to with the company, and, consequently, what is most important from a talent perspective.

Second, choose priorities. Your job as CHRO is to be clear about what really matters to the business from a people perspective and concentrate on those priorities. There are always implications and consequences to focus on.



Don't be fooled. This is not an intellectual challenge: it is an emotional one.
There will be some work that is worth doing, just as there will be some work that is less critical. There will be some talent that is more important than others. You can always make rankings. There will be arguments for and against them. Be rigorous in your thinking.
I can think of more than one instance in which I liked the person who was in a role critical to delivering enterprise value, but they were not up to the job. Knowing I couldn't keep that individual in the role, I postponed my decision. Eventually, their underperformance came to the attention of the CEO, and I had to do something about it. In hindsight, I realize I should have brought both rigor and care to the situation from the start, had a conversation with the individual about what the business needed from the role, and been straight and challenging. That generosity would have given them a chance to step up.
Ultimately, if you wish to care for others, don't make the mistake of letting your care drive what you decide and what you implement. Instead, make that care drive how you decide and how you implement.
I work with first-time CHROs on exactly these matters, mentoring and guiding them to come to grips with the challenges of the job and to create impact. By all means, contact me with your questions or thoughts.
---
* Matthew D. Lieberman, Social: Why Our Brains Are Wired to Connect (Random House, New York: 2013), pp. 9, 125, 127, and180.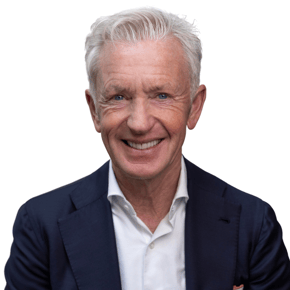 Hein J.M. Knaapen
Hein is an internationally recognized expert on HR innovation, talent development, and organizational capability building. As an advisor and mentor, he aims to guide leaders toward maximizing the return on their talent investments.