Change hits, value shifts. You reallocate money and talent to keep up. Sometimes you have to redefine your purpose too.
In business, purpose is one of those "flavour of the decade" topics. There has been a lot of talk in the last ten years about balancing stakeholder interests, about ESG performance, and about business as a force for good in society. Some still ardently advocate Milton Friedman's belief, articulated in his 1970 New York Times treatise, that the only purpose of business is to maximize profit and shareholder wealth. Should you focus on "doing well" or "doing good?" Either way, is it necessary to reinvent your company's purpose?
LINK PURPOSE WITH VALUE
Consider that purpose focuses on everyone's thinking and everything they do. It ensures consistency and literally drives performance and enterprise value. And it can become an effective attractor for talent, customers, and investors. But only if it produces value. As I see it, the purpose of a business is to offer something of value to stakeholders.
Implicit in my definition of purpose is the idea that the value of the company is a proxy for its relevance to its environment. Purpose must, therefore, remain relevant. It must constantly connect with value as perceived in the hearts and minds of those with a stake in it.
I am not saying that all corporations today have to have a purpose of changing or saving the world. I am saying that a company's purpose must make its value proposition clear to everyone.
If an organization's value proposition is to consistently deliver products or services that satisfy the needs of customers, its purpose should reflect that competence. If an organization does this according to a corporate code that not only creates internal alignment but also attracts talent, its purpose should reflect the value-add of that corporate culture. If an organization's value proposition is to consistently deliver products or services that satisfy the needs of consumers and produce some benefit(s) to society, then its purpose should reflect its commitment to driving social change.
BYPASS VALUE DISCONNECTS
When change hits and what people value shifts, it is imperative that you, as a CEO, CFO, or CHRO, not only notice but also take time to reflect on whether your company's current value proposition and offers will remain relevant. If the answer is "no," your organization risks fading or failing.
When digital cameras and smartphones disrupted traditional photography, the leadership at Kodak didn't reinvent its purpose in the context of a digital, online world. That missed opportunity had the chemical manufacturer filing for bankruptcy in 2012. Fortunately, not every value disconnect ends this way.
Consider Shell plc, one of the largest companies in the world. With operations in over 70 countries, this behemoth has been a key player in the global fossil fuel industry since Netherlands-based Royal Dutch Petroleum Company and UK-based Shell Transport and Trading Company amalgamated in 1907. Shell plc's leaders, foreseeing the need to tackle climate change and anticipating a transition to low-carbon energy sources, updated the company's purpose around 2015 "to power progress together with more and cleaner energy solutions."
Progress requires energy. Yesterday that came primarily from fossil fuels.
Shell understands that today, energy must come from integrated solutions, developed with governments and other policy stakeholders, that won't add to the greenhouse gases in our atmosphere.
The company has sold off its oil sands business in Canada, exited its prospecting efforts in Alaska, and significantly grown its natural gas business (the cleanest form of fossil fuels). "Powering Progress," Shell's new strategy balances its commitment to respect Nature and accelerate the transition to a net-zero world by 2050 with society's need to power humanity's burgeoning population and generate shareholder value.
The original purpose of Philips, another company founded in the Netherlands, was "to improve people's lives through new technology." What started as an entrepreneurial venture into producing cost-effective, reliable incandescent light bulbs in the 1890s became a highly successful conglomerate during the twentieth century. Philips made its name with game-changing innovations (the first rotary electric razor, the Philips radio, the video cassette recorder, and the compact disc) and advancements in key technologies (X-ray tubes, television).
In 2011, Philips' leadership made a strategic choice to focus on creating value across the health continuum, that broad space covering everything from healthy living and prevention to informatics and hospital machines. They restructured Philips, divested the legacy lighting business, and added a fresh nuance to the purpose ("to improve people's health and well-being through meaningful innovation"). Breakthroughs like the image-guided Azurion platform, which has been used in over two million surgical interventions since 2017, and the Philips BlueSeal magnet, which uses 0.5% of the helium housed in conventional MRI scanners, are helping the company deliver on its goal of improving 2.5 billion lives a year by 2030.
A QUICK PURPOSE CHECK
Here are three things to consider when reviewing or renewing your corporation's purpose.
CHANGE

- What is shifting in society? How is that changing the perception of value among your different stakeholders? Should their changing perceptions influence your offers? Your organizational culture?

VALUE

- What value does your company create now? What value should it create tomorrow to align with what you observe?

DOING GOOD

- While your company delivers the value, you have identified, what broader challenges and social issues could it address?
It is true that an aspirational purpose that aligns with people's values and concerns can motivate them to go above and beyond to address diversity and inclusion or restore the environment. But it is only a great purpose to the extent that it allows you to make money.
One more cautionary note: Linking purpose to value creation is necessary but not sufficient for success. Unless you take conscious steps to protect value and mitigate execution risks, value leakage will occur. More thoughts on that later.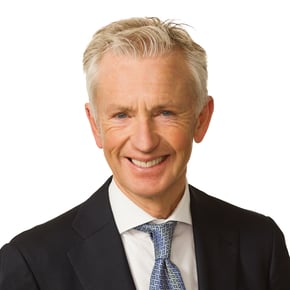 Hein Knaapen
Hein is an internationally recognized expert on HR innovation, talent development, and organizational capability building. As an advisor and mentor, he aims to guide leaders toward maximizing the return on their talent investments.