Data informs decision-making. And now big data is making its way into a domain previously dominated by small data: the search and selection of C-suite talent.
The challenges for decision-makers?
First, to know where to use what data. Second, how to integrate and smartly interpret data from multiple sources.
Get the C-suite search and selection process right and you'll know what data to acquire. Get the right data and you'll be able to make better choices.
Get the Process Right
What we have found is that having a context, a frame of reference, a straightforward process within which to work with all hiring data—big and small—makes the difference between success and failure.
1. Define. Start by thinking about what contribution the person will need to make to have the company deliver on its value agenda. Carefully define exactly what jobs you need this individual to do in this particular role. Be specific about what skills and experiences they must have had to do these jobs well. Include in your list of search parameters a natural "fit" with the corporate culture. For example, if you are rebuilding a business in the digital world, you'll want a COO who is able to think and create in the world of multimedia. If you are updating the brand of your multinational organization, you'd best look for a new CMO who has already taken a reputable corporation through a large-scale rebranding.
2. Test & Assess. Before interviewing, run qualified candidates through a set of objective tests and assessments. Work with a third-party professional service to design a series that will provide you with comprehensive profiles of both skills and attributes relevant to the role.
3. Shortlist & Interview. Set up a diverse panel of board members, peers and other stakeholders to select a shortlist from your tested candidates. Solicit your panel's opinions and concerns about these prospects with respect to the role before you begin to set up interviews.
Pay attention when they point out qualification knockouts. You don't have time to waste. If your panel sees a candidate doesn't meet a fundamental job requirement, lacks essential experience in your industry or across the full profit-and-loss spectrum, or is limited by an industry non-compete contract, either cut that individual from the shortlist now or press into that in your interview.
4. Check. After interviewing your shortlist, conduct numerous "hard ball" reference checks on your preferred candidates. Go "off list" to talk with references they did not provide, people who can add an impromptu, unadulterated perspective to the picture.
5. Interpret & Compare. Pull together all the information you have. Carefully inspect discrepancies between data coming in from different sources. Compare the gaps in candidates' capabilities and what you would need to do to mitigate the risks those gaps represent. See whether this reveals a need to adjust the organizational structure. Then consider reasons why you should hire each candidate, as well reasons not to hire them, before you make your final choice.
Get the Right Data
In this process, big data primarily comes into play in the tests and assessments. If you know what role requirements and culture fit you need, you can design a strong battery of evaluations to suit your budget. There are more options on the market than you can anticipate here, some very strong. Get guidance if you are overwhelmed. For instance, Korn Ferry recently launched a new tool specifically designed to bring big data to bear in hiring senior executive talent.1 Backed by a database of 2 million executive assessments, it can illuminate how well a person fits with the organizational culture, as well as their individual proficiency in key competencies. As always, the best way to use such any tool—including such a comprehensive one—is to feed it with your "right" requirements.
Get Smart
The danger for us all in having access to so much information throughout the search and selection process is that "…it's too easy to mistake correlation for causation and to find misleading patterns in the data."2 This is where a third party, highly experienced and successful at C-suite hiring, can add extraordinary value: by bringing their objective human insights to bear on the disparate intelligence you have gathered. Rather than take data at face value, they will ask:
Where does this data come from?
What does it say?
In what ways does it corroborate or call into question other data?
Based on our own experience and wisdom, what does this mean?
The conclusions they come up with will be well worth the cost.
One last consideration: before you sign the contract with your next C-suite member, remember one thing.
Just as there is no perfect human being, there is no perfect hire.
That's why we see designing and implementing an onboarding process for top senior talent as the final phase of search and selection. Skip over or lightweight your way through onboarding and you run the risk of setting up your new executive leader to fail.
1 "Hiring C-Suite Executives by Algorithm", HBR, Sarah Green, April 2015.
2 "Big Data: The Management Revolution", HBR, Andrew McAfee and Erik Brynjolfsson, October 2012.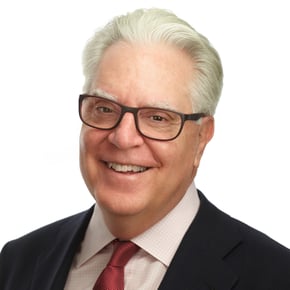 Sandy Ogg
CEO.works' founder, Sandy Ogg has spend 30+ years working and learning with CEOs around the world. His experience and the insights he's gained through this work have informed the CEO.works methodology.