Rajev brings a passion for talent and 30 years of experience as a value-focused senior business leader, private equity operating partner, investor, and entrepreneur. He has led and transformed multibillion-dollar global businesses; invested in, turned around, and exited growth companies; and incubated new businesses from scratch. He leads the CEO.works business in Asia AMET.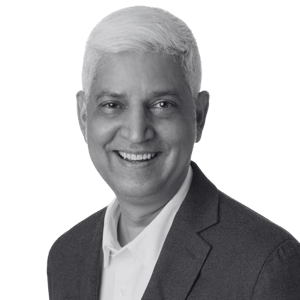 Rajev works with CEOs, PE Partners, Founders, and Owners, bringing to bear his extensive experience leveraging talent and teams to mobilize organizations, drive value creation and deliver business transformations. Independently, he is also the Founder and Chairman of an Indian consumer business.
Prior to CEO.works, Rajev served as an operating partner at Everstone Capital, an Asian private equity firm, where he led the platform operations team and co-led deals in consumer/consumer healthcare sectors. During his tenure, he was Chairman and Board Director of Ascent Health & Wellness (pharma supply chain business that went on to become a unicorn), Board Director at Modern Foods (baked goods business carved out of Unilever and exited to Groupe Bimbo), President at Faces Cosmetics (color cosmetics business, turned
around and exited to Sequoia Capital); and Board Observer at Omniactive Technologies (nutraceuticals business exited to TA Associates).
Previously, Rajev served for 21 years at Unilever, rising from an intern to Global Vice President, leading strategy and buy side for skincare category. In prior roles, as a senior member of the global category leadership team, Rajev led the company's largest global skincare franchise (Pond's) and the second-largest skincare region (Asia ex-China and Japan). As Global Brand Director, he led the revival and transformation of Lifebuoy, one of Unilever's oldest brand franchises. In earlier roles spanning 10+ years in India, Rajev built a new modern trade business unit from scratch and led various market-leading brands in the haircare, skincare, and skin-cleansing categories.