Joydeep Mutsuddi
Senior Partner
Joydeep has garnered tremendous trust with partners and peers for his "business first" approach, keen eye for talent, and confident coach-like presence. His legacy? Virtuous cycles of growth driven by integrated, transformative interventions that align talent and strategy, efficiently deploy capital, and create winning workplaces.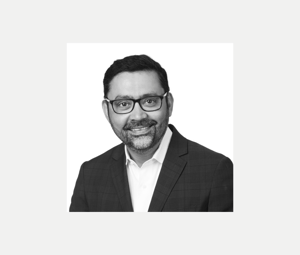 Business Builder. Trusted Global CHRO.
From 2019 to 2021, Joydeep served as CHRO & Executive VP at BrightSpring, a leading comprehensive health services provider and KKR portfolio company. Joydeep led the 18-month integration of two large companies to create BrightSpring Health, along with several tuck-in acquisitions. He simplified the operating system for the combined company, developed the HR data and analytics capability and, with the board and CEO, guided the choices on leadership for each entity to drive accretive value. Previously, Joydeep held multiple HR, business, and corporate leadership roles at Becton Dickinson (BD), a $17B global medical technology company of 65,000 in 190+ countries. He was instrumental in scaling the company from $8B to $17B through a series of large acquisitions, including Carefusion Inc. ($12B, 2014) and CR Bard ($24B, 2017).
Joydeep drove key functional alignments in global manufacturing, supply chain, organization design, capability, and governance that delivered significant efficiencies over three years. Joydeep also incubated early-stage technology initiatives—digital health, single cell genomics—and partnered to ensure successful commercial launch. Earlier, as senior manager for Coca-Cola® in India, he scaled the organization from 200 to 12,000 people while leading the HR function through the acquisition of 32 businesses and their integration into four regional companies. This INSEAD alumnus obtained an MBA with a major in human resources from India's Xavier Institute of Social Service and a Bachelor of Commerce with a major in finance and accounting from Ravenshaw University.