In times of crisis we often see a huge time lag between the movement of money and the redeployment of talent.
A fundamental disconnect between business executives and human resource leaders is responsible for this delay. Many organizations, despite their best efforts, are unable to generate value at speed in today's disruptive environment.
With this as our status quo, is it even possible to effectively redesign work, connect talent to value, and pave the way to future growth in time?
We believe it is.
---
Value Coaching and executive coaching are different.
---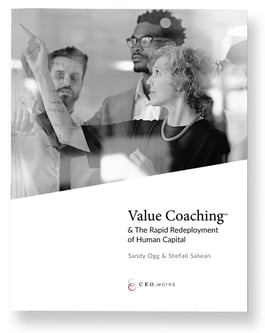 Value Coaching is designed to guide an organization through the process of rapidly redeploying human capital so that the CEO will have the necessary talent on hand to execute their intended strategy. It doesn't require an entire organizational overhaul to get there. This process focuses only on the key roles that have the capacity to deliver significant value—wherever they sit in the heirarchy.
In this white-paper, we will guide you through an overview of the process to help you begin to look at creating value in your organization in new ways.
Please fill out the form to access the Value Coaching whitepaper.
Old jobs will disappear, new jobs will emerge, but then the new jobs will rapidly change and vanish.