If you are like many senior executives today, you can see how disruptive change is fundamentally shifting people's values.
You notice that where the value sits in your business is shifting even faster. The challenge in reinventing your organization to adapt to this new reality is that you have to run it and grow it while you change it. That translates into a lot of work happening simultaneously to meet the need for speed.
Time, the constraint of all constraints, forces you to proactively choose what can realistically be done and then organize that work into a set of doable initiatives.
---
What work can you complete in the time you have?
---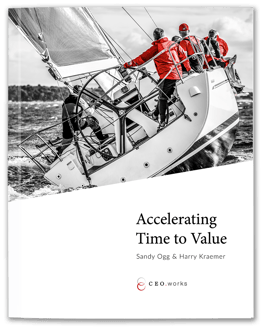 By filling out the form
, you'll have access to a paper that will walk you through the five fundamentals of the
Time to Value
approach.
Identify Value
Align with Values
Assemble Capabilities
Recalibrate Culture
Fit to Capacity.
Having a small number of the right initiatives in place will make it easier for you to navigate and lead your enterprise through complexity and uncertainty with velocity now and in the years ahead.
Can you say the same of your current initiatives?