Who We Are
We believe business is a force for good.
At CEO.works, we want to have a positive impact on the world by helping businesses perform better. When we help business leaders succeed it elevates their customers, employees, stakeholders and our communities. We founded CEO.works to advise, consult and teach business leaders the tools and approaches needed to bend the value curve upward in this era of exponential change.
Learn more in this interview with McKinsey&Company.
---
What We Do
Connecting Talent to Value™
CEO.works is an executive advisory and capability building company with a focus on precise human capital interventions. Through cutting-edge tools and insights, we rapidly connect talent to value to improve your company's returns, mitigate risk and minimize disruption. Our executive advisory team members have spent decades working inside the C-Suite at large, global organizations and private equity firms.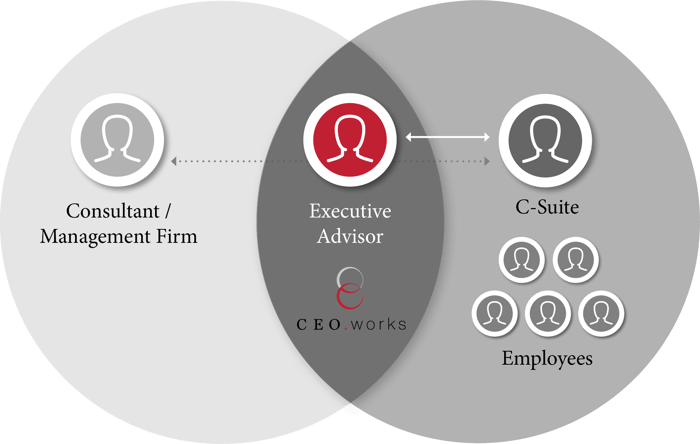 ---
Services
Executive Advisory Services. Seasoned advisors with deep business experience with a bias towards talent, organization and leadership. We advise CEOs, Fund Owners/Investors, PE Operators, CHROs, and large family-held businesses.
Board memberships
Retained advisory services
Capability Building Programs. Intensive, immersive programs that enhance the skillset and effectiveness of executives and business leaders in creating and capturing value. Our programs are offered to the public and can be customized for in-house teams.
Private Equity Consulting Services. We work with fund owners/investors, PE operating partners and portfolio company board/management teams to deliver returns leveraging talent at the most critical points in each investment.
Talent focused advisory services
Value focused talent management
Precision Transformations™
Talent due diligence
Fund-level operating frameworks
Executive hiring & key talent selection
Early stage portfolio company mobilization
Human Capital Consulting Services. Our team has 200+ years experience in Human Resources. We are comprised of CHROs from Unilever, Johnson&Johnson, ING Bank, KNP, Macy's, Laureate Education, and A.P. Moller-Maersk. We are committed to changing and modernizing the work in Human Capital.
Connecting Talent to Value
Precision Transformations
Change management and mobilization
Shaping organizations for cost and growth
Human resources transformation
Executive hiring and succession
Role

•

Talent™ assessments
---
How We Work
The combination of our CEO level advisory and training programs gives our clients both short term results and lasting capabilities. We avoid traditional consulting models with large change programs. Instead, we perform precision transformations with focused interventions designed to unlock value, fast.
---
Our Tools
Our research and development team works closely with the advisory members to co-create, refine and implement an array of tools that allow CEO.works to walk our clients through comprehensive yet focused processes. Some of our custom tools include:
---